Acois – slang for the word here. Aquí or acá are the correct words for saying "here."
Adiós – a way of greeting someone . It doesn't mean good-bye in this sense.
Agringado – to habits or mannerisms of a gringo
Aguantarse un toque – to hold on or wait a minute
A la hora de burro – to arrive very late
Al chile – really, seriously
A medio palo – half–assed or half way. A medias is also used. There is a saying, "A medias, ni mis medias" which means to not do something half-way.
Al rato – perhaps or could be
Amarrarle el perro – to not pay a debt
Argolla – a click of people or to have clout
Arrimado – a mooch or freeloader
Bolados – advice
¿Cómo amanecío? – How do you fee? Said when you see someone for the first time in the morning.
¿Dormiste conmigo? – Did you sleep with me? Is said when someone doesn't say hello or greet you in the morning.
Soltar el perro – to pay a debt or pay someone money you owe them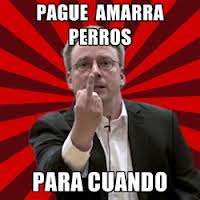 Tiquísmo of the week :
El arrimado y el muerto empiezan a apestar a los 3 días – Unwanted guests begin to wear out their welcome after three days.